Audio translation agency, translating and localizing audio into 120 languages. With over 20 years of experience in for subtitling and voice-over translations.
Adelphi is a specialist audio and media translation agency producing not just the translation of the audio but also produce the completed product be it
voice-over
or
subtitles
ready for publishing. If you do not have the script to translate then Adelphi offers an audio transcription service from any language.
Adelphi has been a full-service translation agency for over 20 years, we also specialize in translating rare and difficult languages and have recently completed translating videos in Lao, Hindi, Arabic, Chinese, Vietnamese as well as many other languages.
Professional and experienced translators in audio translation
Adelphi's Audio Translation Services ensures that all our translators are professional and work only into their mother tongue and have experience of audio translation. This ensures accuracy.  All our translators are members of either the Institute of Linguists or the Institute of Translations & Interpreters. They will also have a minimum of three years of experience in professional translation. Your project is matched to the most suitable translator with the relevant expertise to translate your document.
Voice-over translations
Voice-over translations are a more specialist area when compared to standard translations. Voice-over translations must be restricted to fit the same time-slot as the original otherwise the voice-artist may have to speak faster to make it fit. If the voice-over is going to be used over a video of a different language, then the voice-over translation may include time-codes to help the voice-artist and engineer sync up the voice to the video.
The style of translation is important for voice-overs and should reflect the genre, e.g. if it is for marketing, public information, drama etc. The audio translator will have a copy of the video as a reference and is instructed to translate using a style to match the source material. All our translators have signed an NDA (none disclosure agreement).
This project was recorded in French, Danish, Dutch, English UK, Finnish, Japanese, German, Greek, Italian, Norwegian, Polish, Portuguese, Spanish, Swedish, Turkish, Russian, Chinese, and Korean.
Subtitle translations (SRT)
Adelphi produces SRT files in any language, including making transcriptions of the source video before they are translated to create SRT files for subtitling. Some clients want only the SRT file so that they can produce their own subtitles while others want us to provide the finished video for them.
In SRT subtitling translation, our audiovisual translator (SRT file translator) would create translated subtitles in the target language directly from the source video. Our subtitle translator would then create SRT files that are used to produce burnt-on subtitles.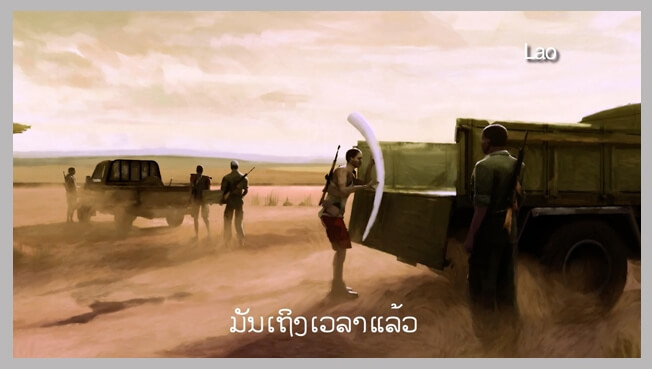 This video shows examples of Arabic, Chinese and Lao  subtitling
for The United Nations Office on Drugs and Crime
Transcription Services
Our transcription services provide time-coded scripts ready for translation. to read more about our transcription services go to transcription and translations services
---
Offices in the UK and USA
Contact Adelphi if you have any questions regarding audio translations, our translation project managers will be happy to answer any questions you may have.
Adelphi has offices in the United Kingdom (UK) and the United States of America (USA). For all UK and International inquiries please contact our UK office tel: +44 (0)114 272 3772 or email: sales@adelphistudio.com. For US, Canada, and South America inquiries please contact our office in California tel: 916 414 8714 or email: us@adelphistudio.com