Media translation services and localization
Adelphi aims to provide comprehensive media translation and localization services to our customers. The translation itself is just a part of this service. Our experienced team will work with you to fully understand your project in order to effectively manage the workflow from concept to completion. Our ultimate aim is to facilitate your communication objectives. Our in-house localization studio can provide the finished media, translated, localized and ready to use.
Our in-house media translation project managers can provide the quality translations that you are looking for, it also means that if your translation is for voice-overs or subtitling then we can tailor the translations for that process. As we have many years experience providing translations for media projects we understand the process to get the most out of your project, unlike other translation agencies who will have little understanding of translating for voice-overs and subtitling projects and often provide translations that are too long, not timed properly or that use fonts unsuitable for the software to be used.
Our media translation services include:
Translations for print materials
Translations for subtitling including SRT files
Translations for voice-overs
Translations for websites
Translations for e-learning
Our media translation studio can translate into over 120 different languages. We also specialize in translating rare and difficult languages, which means we can provide one point of contact for any language inquiry.
Quality and timing are paramount to the translation service that Adelphi provides. To this end, we have put in place a system to assure these factors are met. Using the latest Translation Memory software allows our clients to reap the benefits of quicker, cheaper and more consistent translations.
Print material translations and typesetting
By using Adelphi for your media translation and typesetting we will ensure that the correct font is used to avoid any problems at the printing stage. Our foreign language typesetting team has over thirty years of experience in translating and typesetting printed materials into over 120 languages. All our foreign language typesetting is handled in-house and carried out by our own experienced typesetters. We typeset all kinds of documents including corporate brochures, packaging, business cards, posters, and manuals, producing print-ready PDFs from most industry-standard applications.
SRT and subtitle translations and subtitle production
Adelphi produces SRT files in any language, including making transcriptions of the source video before they are translated to create SRT files for subtitling. Some clients want only the SRT file so that they can produce their own subtitles while others want us to provide the finished video for them.
In SRT subtitling translation, our audiovisual translator (SRT file translator) would create translated subtitles in the target language directly from the source video. Our subtitle translator would then create SRT files that are used to produce burnt-on subtitles.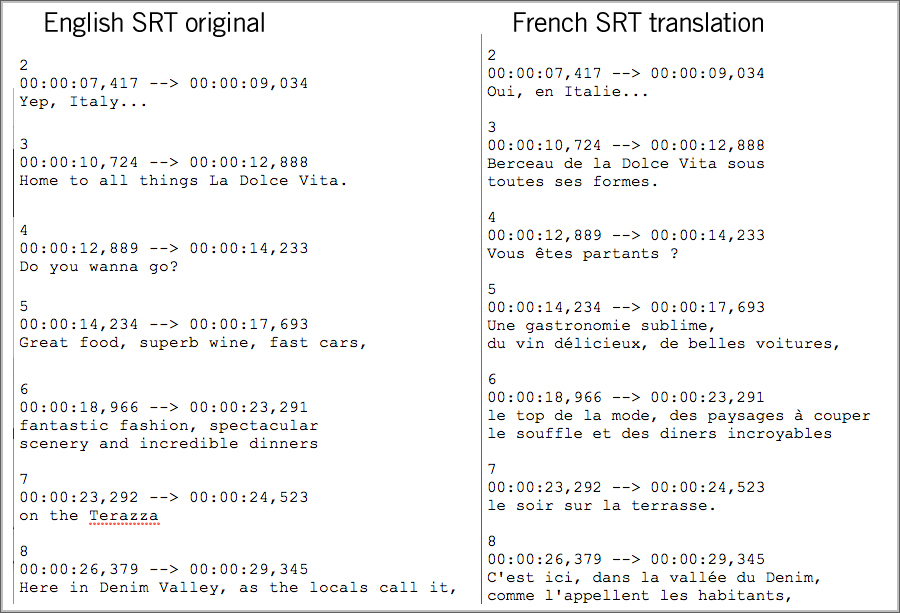 Voice-over translations, artist selection, and recording
Voice-over translations are a more specialist area when compared to standard translations. Voice-over translations must be restricted to fit the same time-slot as the original otherwise the voice-artist may have to speak faster to make it fit. If the voice-over is going to be used over a video of a different language, then the voice-over translation may include time-codes to help the voice-artist and engineer sync up the voice to the video.

The style of translation is important for voice-overs and should reflect the genre, e.g. if it is for marketing, public information, drama, etc. The audio translator will have a copy of the video as a reference and is instructed to translate using a style to match the source material. All our translators have signed an NDA (none disclosure agreement).
Website translation and localization
Adelphi Translations are experts in website translations. We have translated and localized websites in over 50 different languages, often working with ten or more languages on a single website. Adelphi is affiliated with Genius Division, a website design, and development company based in the same building as Adelphi. This allows us to handle the full process from website design and development to translation, ensuring a full and painless solution for all your website translation and localization needs.
Visit our website translation page here
e-learning translations and localization
Not just translating the text from your e-learning production but also localizing all of the buttons and slider content too, as well as adding foreign language voice-overs and subtitles to any embedded videos using translated scripts and voice talents we can provide. We have our own asset localization engineers who can work directly into your e-learning course.
Adelphi's Quality Assurance
Adelphi is a member of the Association of Translation Companies (ATC). The ATC requires member companies to adhere to a strict code of professional conduct, are subject to the rulings of a professional ethics committee and carry full professional indemnity insurance cover to safeguard the interests of the translation purchaser.
Adelphi ensures that all our translators are professional and work only into their mother tongue. This ensures accuracy. All our translators are members of either the Institute of Linguists or the Institute of Translations & Interpreters. They will also have a minimum of three years of experience in professional translation. Your project is matched to the most suitable translator with the relevant expertise to translate your document.