Slovak subtitling service creating localized Slovak subtitles, including transcriptions, SRT and STL subtitle translations also on-screen text and graphics localization
Slovak subtitle translations – SRT file creation
For Slovak subtitle translation, we would use a Slovak audiovisual translator (SRT file translator) who will create translated subtitles in the target language directly from the video in the source language.
There are many subtitle file formats, such as SRT, STL, and VTT, etc. The file format depends on the platform used to display the subtitles, but SRT files are the most commonly supported. SRT files are time-coded documents that can be imported into the subtitling software, which then puts the correct subtitle in the correct sequence. After this, the SRT files just need a quick tidy-up to ensure the reading speed and subtitle presentation are optimal. These SRT files can then be used to create burnt-on Slovak subtitles.
SRT and STL files are also used to provide subtitles for YouTube, Vimeo, etc. By using these types of files, viewers have the option to switch on subtitles for different languages by clicking the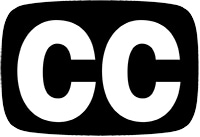 button in the bottom right-hand corner. CC stands for "Closed Captions".