English Subtitling agency producing both open and closed caption English subtitles, including transcriptions, translations, and on-screen text localization.
Adelphi Studio has been producing English subtitles for over ten years, creating English subtitles in all video formats including MOV, MPEG-2, WMV, FLV, etc. Adelphi always produces all their English subtitles in-house and never outsources any of the work. Our multimedia department is set up to work on a wide range of specifications and is able to take your original material and create a working copy with English subtitles ready to publish for film, TV, on the internet, or on DVD.
Adelphi's clients include Barclays Bank, the International Olympic Committee, Cisco, Raison, Amnesty International, UNICEF, Vidal Sassoon, Jaguar, and many other companies and their agencies.
A compilation of four videos subtitled in English 
---
Subtitle styles
The above English subtitles were 'burnt on' to the video (open captions) and due to the nature of the video we used white text with an outline or shadow. There are various ways of producing subtitles to display on your video. We can advise you on the best option for yourselves and produce samples for you to choose from. We can also advise on the best fonts to use too.
Click here to see some samples of subtitle styles
English On-Screen Text Localization
As well as producing the subtitles we can also localize any on-screen text into English. Depending on the complexity and how the original text was produced we may require the data package it was made in.
Foreign Language to English Subtitling Services
Our Foreign Language to English Subtitling Service produces SRTs and open- and closed-caption subtitles in English for a wide range of applications and in many styles and from any language. We manage the entire process for you from start to finish, including transcription, translation, proofreading, and subtitling.
Adelphi has been providing English subtitling for over ten years. We were asked to subtitle the below film from French into English for Sheffield University. The film was commissioned in 1942 by the Propaganda Abteilung, a delegation of Nazi Germany's propaganda ministry within occupied France by the ex-Mason Mamy. It denounces Freemasonry, parliamentarianism, and Jews as part of Vichy's drive against them and seeks to prove a Jewish-Masonic plot.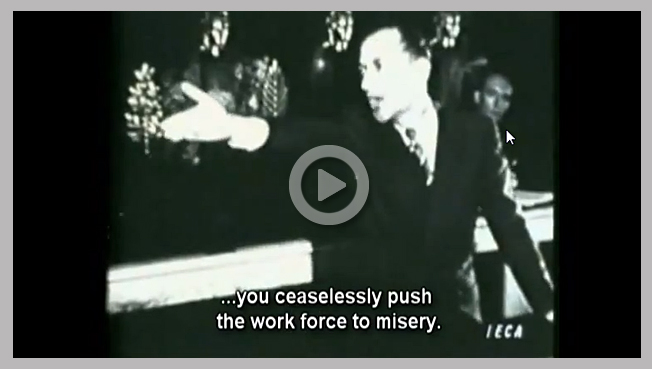 Click on the video to play
---
Other subtitling languages include