Voice-overs or subtitling which to choose
Whether to choose voice-overs or subtitles for your e-learning project can depend on a number of considerations, such as:
Budget
Subtitling is much cheaper than voice-overs, so if you have a limited budget, subtitles might be the way to go. For voice-overs, the cost will depend on the voice artist or artists you choose, studio time, editing of the raw audio and syncing to the video, all of which adds up. It can also depend if your voice-over is timed or not if you require lip syncing or semi lip syncing which also adds considerable time and cost to the production.
Timing
Subtitles usually have a character limit of around 44 characters and 2 lines per subtitle but subtitling can be made to fit your video whereas voice-overs depending on the language, can be much longer than the source language. Resulting in the voice-over being too fast for the allocated time in your presentation or video.

Projects delivery times
If you have a short delivery time or deadline for your projects then the time finding, choosing, recording, editing and syncing the voice-overs should be taken into consideration. Whereas subtitles if translated properly using SRT files, can take a fraction of the time.
SRT files are time coded documents that can be imported into the subtitling software which then puts the correct subtitle with the correct sequence, after this there is only a visual tidy up required.
Example of an .srt file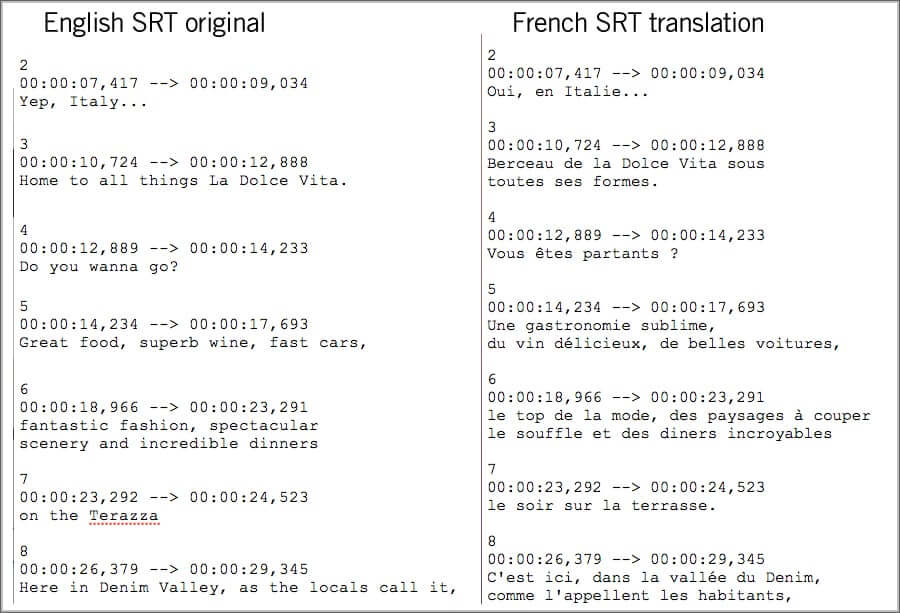 Adelphi Studio is a leading foreign language voice-over agency and subtitling company working with media companies in the UK, the USA, and worldwide. Our in-house dedicated audiovisual translation department provides a quality subtitling and voice-over translation service. We also provide typesetting in over 120 languages.
---
Adelphi offices
Adelphi Studio offers subtitling and voice over services globally from our offices in the UK and the USA.
All US, Canadian, and South American inquiries should be directed to our US office while all other inquiries should go to our UK office.
UK Office
Tel : +44 (0)114 272 3772
Email: sales@adelphistudio.com
US Office
Tel : 916 414 8714
Email: us@adelphistudio.com