One particular news article caught our attention in the office today: the BBC reported that in his visit to Romania this week, the German Foreign Minister Frank-Walter Steinmeier was presented with a booklet by his Romanian counterpart triumphing Germany-Romania bilateral relations… complete with an image of France covered by a German flag on the cover. The document was produced by Agerpres, Romania's national news agency, who have accepted responsibility for the error and apologised to both parties.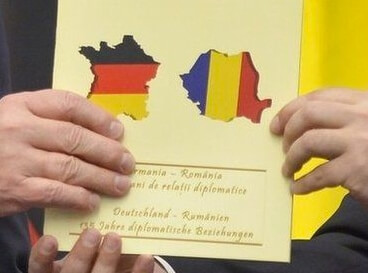 Spot the mistake
Outsourcing: an option for quality
One advantage of outsourcing typesetting tasks like the above is that it introduces your content to a whole new set of eyes, not least a project manager and typesetter, who will engage with your documents both when they're being worked on and when the result comes to be quality-assessed before delivery. At Adelphi, our involvement adds more than just a typesetting service: we're able to advise our clients if we spot potential issues inherent in their content and with our long experience in the industry, we can even suggest helpful fixes that allow the work to continue to the original schedule.
Not for the first time
For Romania's Foreign Ministry, the story is less rosy: this is the second time in only a month that they've been involved in an embarrassing incident. Last month, when the Romanian Embassy in France issued invitations to an upcoming function, they accidentally attached a spreadsheet containing candid and unrestrained remarks about the invited guests.
Source: BBC