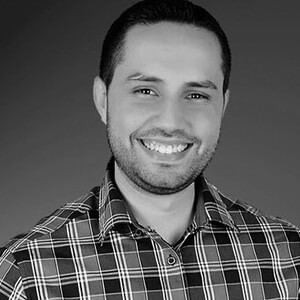 Shady is a professional British English/Arabic Voice Over Artist located in Cairo, Egypt. He works from within his own home studio and is very proficient with his recording, audio editing and mixing skills.
He is a passionate Project Manager with 2+ years of experience in the field of dubbing/localization and audio production management, planning, scheduling and leading cross-functional resources in a multicultural environment to deliver multimedia products with the highest quality and most efficiently.
Graduated from the faculty of Informatics and Computer Sciences in 2013, with a bachelor's degree from The British University in Egypt, validated from Loughborough University in the UK, Shady has also worked as a User Interface Developer and Web Designer for two years, until he found that his passion was somewhere else, regardless of how successful he was in that field.
He has always wanted to become a radio presenter and a voice-over artist, and that strive is what energized him to pursue that career. An entrepreneurial mindset that believes that nothing is impossible, anything is achievable through research, thorough planning, trial and error, and the lessons learned.
Having extensive expertise in the areas of Project Management, Localization, and Audio Production is what qualifies me to become your reliable choice for multimedia project and production management.