Adelphi Studio is looking for freelance audio-visual translators translating between English and the following languages: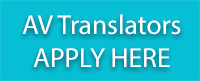 Successful candidates will be employed to work on Adelphi's language projects in (but not limited to) the following ways:
Transcribing and translating audio-visual materials (most commonly videos) directly from their source language audio to a time-coded transcript of the specified target language.
Proofreading audio-visual translations carried out by other translators.
Providing translation and/or proofreading on other translation projects as assigned.
In carrying out the above, successful candidates will:
Adhere to company policies and procedures as outlined in our Non-Disclosure Agreement.
Adhere to deadlines and instructions given by the project lead in purchase orders.
Preferably be available to work overtime and weekends if so required.
A successful candidate will possess the following skills, qualifications and proficiencies:
Native all-round language proficiency in the language to be translated into.
Excellent all-round language proficiency in the language being translated from.
Excellent translation skills with an acute and nuanced cultural awareness.
Three years' commercial experience working in the translation industry as a translator.
Experience specifically in audio-visual translation or at the very least the appetite to quickly learn the processes and skills required for this type of work.
Excellent computer-based competence.
Initiative to carry out appropriate research on the material being translated.
Excellent communication skills and attentiveness to instructions (including deadlines) and guidelines given by the project lead.
University degrees in languages and translation desirable.
University degrees specifically in audio-visual translation especially encouraged.